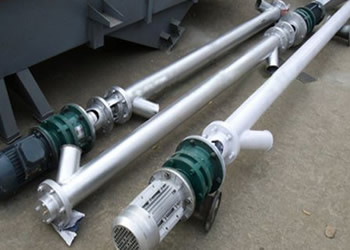 Screw Conveyor
Conveying capacity: 1-8t/h
Applicable materials: coal, cement, slag, sawdust, wood shavings, straw, grain.
Application range: building materials, chemical industry, electric power and other industries.
Application of Screw Conveyor
Screw conveyor is widely used in various industries, such as building materials, chemical industry, electric power, metallurgy, coal mines, charcoal, food and other industries, and it is applicable to horizontal or inclined conveying of powdery, granular and small block materials, such as coal, cement, slag, sawdust, wood shavings, straw, grain and so on, the temperature of conveying materials should be less than 200 degrees centigrade. Screw machine or spiral conveyor is not suitable for transporting perishable and easy caking materials, as well as materials with great viscosity. The environment temperature of screw conveyor is -20~50℃; while the conveyor angle βis ≤ 20 °and the conveyor length is generally less than 40m.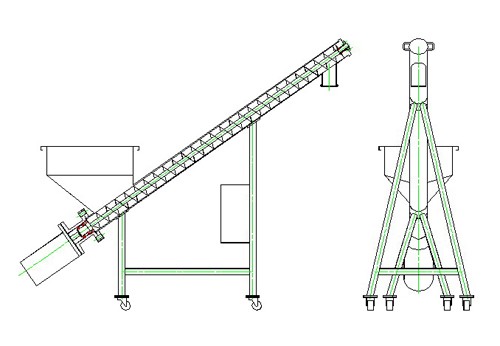 Advantages and Disadvantages of Screw Conveyor
Screw conveyor, in comparison with other transportation equipment, is with advantages of simple structure, small cross-sectional dimensions, good sealing performance, easy loading and unloading, safe operation and low manufacturing cost. The disadvantages of spiral conveyor are serious wear, low conveying capacity, high power consumption and materials are easy to be broken during transporting.
Classification of Screw Conveyor
According to the difference of product structure and conveying material characteristics, screw conveyor can be divided into horizontal screw conveyors, vertical screw type conveyer, flexible spiral conveyors, spiral pipe conveyor (roller conveyor).
(1) Vertical screw conveyor
The vertical screw conveyer is with disadvantages of small conveying capacity, small conveying height, high speed and large energy consumption, so it's especially suitable for transporting liquid powder and granular materials, mainly for lifting materials generally not more than 8 metres in height.
(2) Horizontal screw conveyor
Horizontal screw conveyor has simple structure, easy installation and maintenance, and troubles hooting. So it's mainly used for horizontal or slightly-inclined conveying of materials, transport distances are generally no longer than 70 meters.
(3) Spiral pipe conveyor
Spiral pipe conveyor enjoys low energy consumption, low maintenance cost, and the end feeding can adapt to uneven feeding requirements, and can simultaneously meet the technological requirements on transporting and mixing. Feeding too much material won't cause blocking phenomenon. Practice has proved that spiral pipe conveyor is with good results on drying of cement clinker, limestone, phosphate ore, ilmenite powder, coal and slag material.
(4) Flexible screw conveyor
Arbitrary arrangement for transmission lines is available, to avoid the material reproducing. If fed too much, the spiral body of the flexible spiral conveyor will float automatically, avoiding the blocking. Flexible screw conveyor is mainly used for both horizontal and vertical conveying of materials. Generally, the higher speed of vertical conveying of flexible screw conveyor cannot be less than 1000r/min.
Model & Technical Parameter of Screw Conveyor:
| | | |
| --- | --- | --- |
| Model | Power | Conveying Capacity |
| F140 | 1.5 | 1-2 |
| F190 | 2.2 | 2 |
| F219 | 2.2 | 2-3 |
| F273 | 3 | 3-5 |
| F350 | 3 | 5-8 |
Note: Fote Heavy Machinery reserves the right to change the technical parameters without notice.
Product list