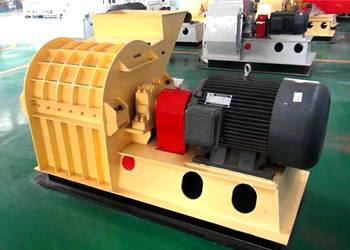 Hammer Crusher
Production capacity: 1-7t/h
Weight of main machine: 960-2980t
Main machine motor: 11-110kw
Applicable materials: corn, sorghum, wheat, beans, and other materials.
1. Introduction to hammer crusher
Hammer crusher, also known as wood chipper shredder, is the most universal crusher with many merits, such as high yield, good versatility, etc. Product fineness can be 200 meshes, so the wood chipper shredder is more effective to sticky materials difficult to be crushed by traditional crushers. Hammer crusher can crush a variety of granular feed ingredients, such as corn, sorghum, wheat, beans, and other materials.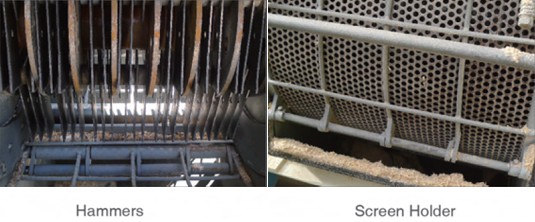 2. Operation notes of wood chipper shredder
A. The operator should be familiar with the structure, performance and operating methods of hammer crusher;
B. Ensure safety of both operator and the machine before starting it, free-load running about 2-3 minutes is necessary before feeding materials;
C. Evenly feeding is very important in the work process of the wood chipper shredder;
D. Don't feed forcibly with hands, stick or iron bar when feeding port is blocked;
E. Make 1-2 minutes free-load running after finishing the work to discharge all materials before stopping the hammer crusher.

3. Programs to enhance the efficiency of hammer crusher
A. Strictly follow the operation specifications, complete the necessary checks and sanitation work;
B. The bearings should be washed after working 800 hours and replaced high-speed grease. Otherwise, it may affect the normal operation.
4. Selection tips of hammer crusher
A. Check if the joints are loose before you decide to buy;
B. Check the flexibility of rotor, no jamming, touch, impacting and rubbing shows the good performance of the wood chipper shredder;
C. Choose the appropriate model according to the required thickness of finished product;
D. Select appropriate hammer crusher based on the production scale.
5. Why do you choose Fote Heavy Machinery?
The rough edges in hammer crusher are uneven grain size and high ratio of over crushed powder, which have no effects on the using of finished products. We have tried our best to provide valuable service in this respect. We can provide customized product specifically for your requirements.
Model & Technical Parameter of Hammer Crusher:
Model
SG400*600
SG500*600
SGH700*800
Main Machine Motor(kw)
11-15
22
55
Weight of Main Machine(kg)
960
1500
2600
External Dimension of Main Machine(mm)
1500*1300*1400
1900*1560*1500
2350*1880*1500
Quantity of Hammers(pcs)
24
36Max
72Max
Material of Hammers
Alloy
Size of Final Produc(mm)(depends on size of sieve holes)
5-25
5-25
5-25
Blower Motor(kw)
Spindle drive
4
7.5-11
Capacity(t/h)
1-1.5
1.5-2.5
3-5
Note: Fote Heavy Machinery reserves the right to change the technical parameters without notice.
Product list