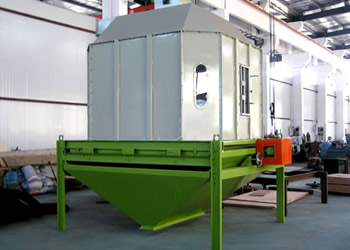 Wood Pellet Cooler
Production capacity: 1-12t/h
Cooling volume: 1.2-8.6m³
Applicable materials:: biomass pellets and wood pellets.
Application range: the production of high-quality biomass fuel.
Summarize of wood pellet cooler
Usually, the moisture content of biomass granule or feed particles is more than 16%, and the temperature of them is about 70-85℃, so that biomass fuel cooler is required to low down material temperature to 3-5℃ to be stored securely. Counter flow pellets cooler has large capacity, and can be used to cool the biomass pellets and wood pellets, so it Is a necessity for the production of high-quality biomass fuel.
Features of wood pellet cooler
1, Wood pellet cooler is used to cool the pelletized feed grain and biomass pellet fuel;
2, Biomass fuel cooler has good cooling and precipitation effects, high automation;
3, Compact structure, small floor area, easy operation and maintenance, wood pellet cooler is essential product to cool and screen hot particles.
Purposes of wood pellet cooler
Wood pellet cooler has a unique cooling mechanism, cooling wind makes reversing movement with high temperature and humidity materials, so that the material is gradually cooled from top to bottom, which is superior to domestic similar products. The cooled material is no higher + 5℃ than the outside temperature, and the precipitation rate is no less than 3.8 percent. Biomass fuel cooler plays a good role in improving economic efficiency, which can not only produce high quality pellets and biomass pellet fuel, but also extend their storage time.
Unique advantages of Fote Counter flow pellets cooler
1. Large cooling room and 5-30t/h cooling capacity;
2. Counter flow cooling principle, reasonable design and favorable cooling effect;
3. Cool air enters from the bottom to ensure high cooling efficiency;
4. Unique rotating structure. Wood pellet cooler can cool particles evenly distributed in the cooler;
5. Particularly suitable to the bulk, flake or granular materials.
Model & Technical Parameter of Wood Pellet Cooler:
| | | |
| --- | --- | --- |
| Model | Cooling Volume(m³) | Capacity (t/h) |
| FNL100 | 1.2 | 0.8-1.2 |
| FNL200 | 1.5 | 1-2 |
| FNL300 | 2.5 | 3-5 |
| FNL400 | 4.5 | 5-8 |
| FNL600 | 5.5 | 8-12 |
| FNL800 | 8.6 | 10-12 |
Note: Fote Heavy Machinery reserves the right to change the technical parameters without notice.
Product list