Fote Straw Pellet Mill Realizes Stable Pelletizing
Fote straw pellet mill is mainly used to complete the coarse fiber pelletizing for all kinds of crop straws and agriculture wastes like sawdust, rice husk, cotton hull, cotton seed shell and grass etc. All biomass materials that are hard to be glued and formed can be pressed by our machine. The straw pellet mill is also called crop stalks pellet machine.
In general, the straw pellet mill is made up of feeder, compressor and discharging part and the compressor consisting of main frame, motor, feeding port, transmission system, press roll, ring die, electrical heating ring and discharging port works as the core part of the plant. For a complete pelletizing process, raw materials like crop straws and wood leftovers will be handled in the following workflow: crushing—transporting—pelletizing—storing.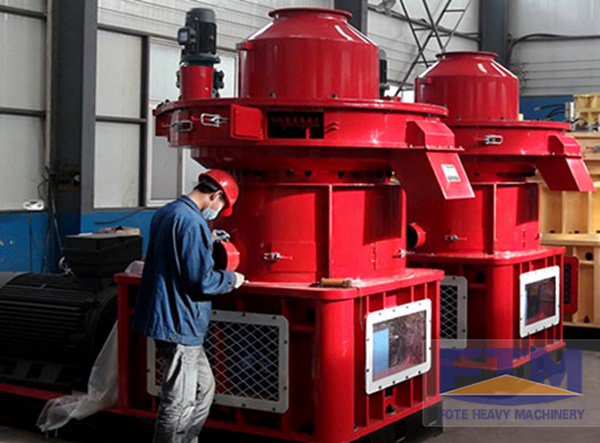 If we need more than one set of straw pellet mill to work smoothly at the same time, considering both the feeding and discharging processes can be completed by the belt conveyor, we should just guarantee that every single crop stalks pellet machine should run stably. Users should remember not to make the equipment work with full load, because in such case the equipment is quite sensitive to raw material moisture and powder diameter, which will force the pellet machine to produce uneven products and makes users increase the labor input.
When only a single set of straw pellet mill is needed in the production, we should also keep the load within the rated load range so that we can avoid the unstable performance of the equipment.
Since the straw pellet mill usually runs in harsh working condition, it's valuable for users to do optimization and reinforcement work for the equipment. To learn enough operating and maintaining knowledge is also necessary. Only in this way can we improve the stability of the straw pellet mill and enhance its productivity.
Product list